Custom Jewelry Design
Custom Jewelry Design *by appointment*: Do you need wedding rings, an anniversary gift, special occasion mementos, or perhaps have a personal treat in mind? Browse Marc's on-line portfolio and visit our showroom to see, hold, and experience a wide variety of Marc's jewelry. Bring your ideas, your dreams and wishes, or your heart's desire and let Marc guide you towards the creation of your own special piece.
We can order gemstones at no obligation for your approval; provide sketches or full-color drawings during the design process; email photos or invite you to approve during the fabrication process; provide a letter of retail replacement value for your insurance company when the item is completed. We guarantee the quality of our work and strive to immediately rectify any issues that may cause you to be less than completely satisfied with your jewelry.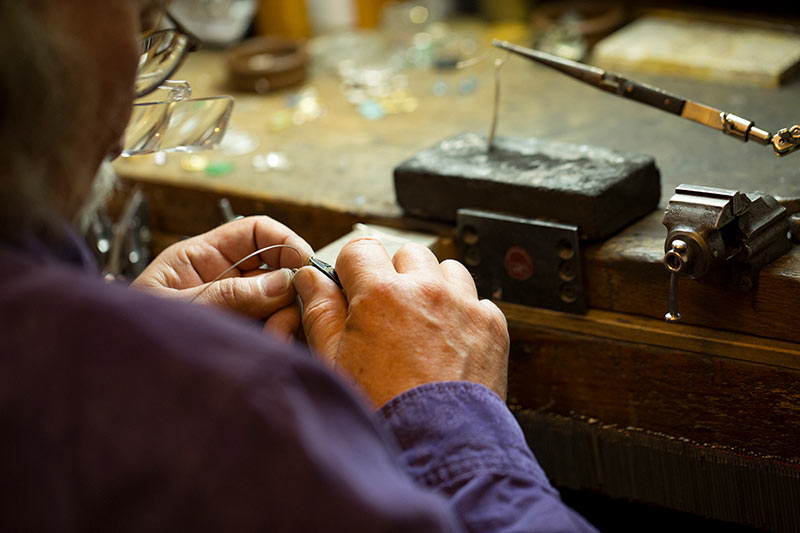 Studio Services
Restyling *by appointment*: Create something new from your inherited or out-of-date fine jewelry. Bring in the jewelry you just can't make yourself let go of; you know it has value, both sentimental and monetary. Let Marc help you design a piece of jewelry you will want to wear using pieces of your treasured family heirlooms, and get value from your scrap metal (including old chains, single earrings, broken items) at the same time.
Fine repair: When you have jewelry repairs that no other jeweler will touch, including resetting or replacing missing or broken valuable gemstones; platinum work; inlay repair; and adjusting vintage pieces or fine hand-crafted jewelry that require an artist's touch, allow Marc to evaluate what needs to happen to refurbish your treasured items. We will be happy to take on the most challenging projects, and refer you to trusted colleagues for minor repairs. We also provide stringing services for beads and pearls.
Appraisals *by appointment*: We work with a trusted, highly qualified Graduate Gemologist to provide official appraisals for insurance and estate purposes. We can also offer a limited "retail replacement value" letter for any jewelry made by Marc Howard or for your property based on your older appraisal documents, accepted by most insurers. Sometimes you just need a practiced eye to take a few minutes to look at what you have and give you a verbal estimate of its value; we can do that too.